Killingsworth Family Dentistry in Parker, CO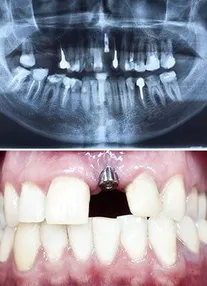 Dental implants are an artificial tooth replacement crafted to mimic the look and texture of an organic tooth. This technology was developed by a Swedish scientist named Per-Ingvar Branemark over 50 years ago, originally created as a solution to securing loose-fitting dentures. Since their beginnings, engineering and enhancements to the implant have allowed dentists to expand the implant's usefulness, specifically in the category of missing and lost teeth.
In modern times, implant techniques provide a wide range of tooth replacement solutions including:

Single Tooth Replacement
Anterior Replacement
Posterior Replacement
Full Upper Replacement
A dental implant is a prosthetic tooth designed to replace a natural tooth that has fallen out or been removed from the jaw. It is a safe alternative treatment to a bridge or denture.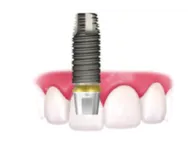 Unlike bridges and traditional dentures, implants are surgically inserted into your jawbone, providing exceptional support and a strong, seamless smile. Each implant is anchored by a strong, titanium implant that is placed into the jawbone - this is then attached via an abutment to a prosthetic crown, resulting in a semi-permanent fixture for a natural feel and crafted to mimic the look and texture of an organic tooth. The procedure to insert this implant requires a 3-6 month treatment period if you have adequate bone to support your implant. If your bone is too soft, you will require a bone graft, which adds another two to three months to the treatment period.
Types of Implants
Anyone with any type of tooth loss can benefit from implant placement, as there are several implant placement options to choose from:
- Single: A single implant can be used to replace individual missing teeth. This is an ideal alternative to a bridge, as it requires no altering of adjacent teeth and closely mimics the appearance and performance of a natural tooth.
- Multiple: If you're missing multiple teeth, multiple implants can be placed in the mouth. Implants can be placed adjacent to one another or throughout the mouth with no complications. Even better, they require no damage to adjacent teeth and look and perform similarly to natural teeth.
- All Teeth: If you are missing all your teeth, you can benefit from implants as well. These implants can act as complements to your dentures, providing support and structure to your dentures. With implants, you can enjoy improved fit and stability from your dentures, and no longer have to worry about slippage in your daily life.
If you are missing a tooth or multiple teeth and feel like you are a candidate for dental implants, our team at Killingsworth Family Dentistry in Parker, CO,
Schedule a Visit Today
Schedule a consultation with our experts to find out how cosmetic dentistry can transform your smile.
Make an appointment with Killingsworth Family Dentistry by dialing (303) 841-2070.